All
All
Product Management
News
Introduction
Enterprise outlets
FAQ
Enterprise Video
Enterprise Atlas
Refuse illegal operation and protect life safety -- Hongta Renheng organizes safe operation training for elevator drivers
2023/08/31
In order to put an end to the illegal operation of the elevator and strengthen the safety awareness of employees, Hongta Renheng Company insists on strengthening the relevant safety education and skills training for special operation personnel. The Human Resources Department hired special operation training instructors from October 19 to 20 to carry out elevator driver safety operation training for more than 30 employees from the first production department, the third production department, the logistics department and the outsourcing company. The training lecturer gave a detailed explanation on the responsibilities of the elevator driver, the precautions of the elevator driver in operation, the safety measures when the elevator runs out of control and other emergency treatments. At the same time, it is supplemented by the analysis of typical elevator safety accident cases to further strengthen the staff's awareness of safe operation of the elevator. At the same time, the teacher also led the students to carry out on-site practical teaching in elevators 4 and 5 of Hongta Renheng Phase I comprehensive warehouse.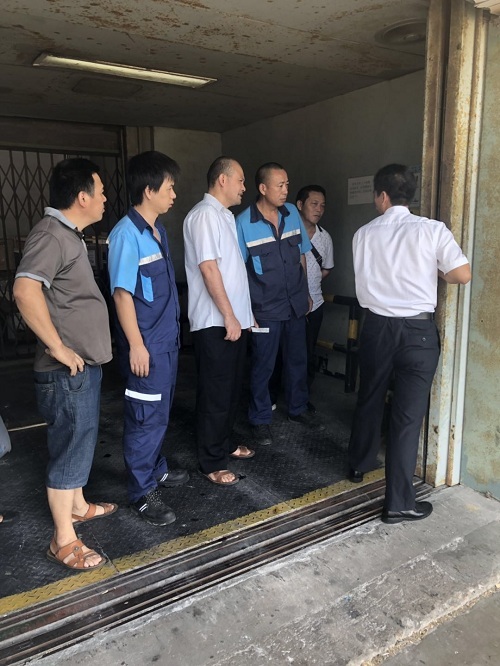 Through the two-day theoretical and on-site operation training, employees not only master the skills of elevator safety operation, but also establish a high sense of responsibility and safety awareness of employees, so that everyone deeply realizes that "safety is no small matter, any seemingly simple operation Can't be careless."
Lu Lei
Related News
祝贺!福建省药品审评与监测评价中心实训基地在大博医疗正式授牌
2023年9月15日,福建省药品审评与监测评价中心实训基地签约及授牌仪式在大博医疗科技股份有限公司(以下简称"大博医疗")举行。国家药监局药品评价中心器械二部部长董放、专家郑立佳,省药品审评中心主任李宗、科长沈晓华,厦门市审评监测中心主任李剑青等一行,以及大博医疗董事长林志雄、轮值主席陈又存和副总经理卢忠炜等出席本次签约及授牌仪式。
All rights reserved©2023 Zhuhai Hongta Renheng Packaging Co., Ltd.
SAF Coolest v1.3 设置面板
JDUSX-ZXWG-WWAWE-ZEF
图片ALT信息: Zhuhai Hongta Renheng Packaging Co., Ltd.
违禁词: First, best, first-class, leading, unique, king, leader, leader, extreme,
无数据提示
Sorry, the current column has no content for the time being.!
You can view other columns or returnHome Page
SVG图标库
请自行添加图标,用div包起来,并命名使用